January theme: 98, 99, 100! 💯
Introduction
This is the 100th Word Family Friday in 100 weeks, and the last before I take a break for a few weeks to work on infrastructure and pad my buffer. I originally had a different idea, but then I realized I of course had to do "hundred", because it's such an important word in the history of historical linguistics. Indo-European languages have been grouped into "centum languages" and "satem languages" since Peter von Bradke in 1890.
Centum languages merge /ḱ/ with /k/, but keep /kʷ/ distinct. Celtic, Germanic, Hellenic, and Italic languages are canonical centum languages. The group is named for the Latin centum: "hundred". (Note c is pronounced /k/ in Classical Latin, even before a front vowel as in centum, despite later palatalization affecting nearly all modern Romance pronunciation).
Satem languages merge /kʷ/ with /k/, but keep /ḱ/ distinct (generally becoming a sibilant: /s/, /ʃ/, or /ɕ/). Indo-Iranian and Balto-Slavic are canonical satem languages. The group is named for Avestan sata: "hundred" (acc. satem).
The smaller branches, Albanian, Anatolian, Armenian, and Tocharian, do not fit as neatly into either category. Some Anatolian languages preserve all three series separately, though Hittite has a later sound change which mimics centumisation. Tocharian merges all three series (as well as losing the voicing distinction, so no less than 9 PIE phonemes are all collapsed into /k/). Albanian and Armenian are both considered to show incomplete satemisation (though pretty darn complete at least in the case of Armenian).
Teaser
hand, ten, decimal, hundred, cent, thousand
Full Text
Pre-Proto-Indo-European

**ḱemt?

hand??

[1]

Proto-Indo-European

**ḱemtos?

[1]

Germanic

*handuz

hand

[1]

East Germanic

Gothic

𐌷𐌰𐌽𐌳𐌿𐍃

handus

Crimean Gothic

handa

North Germanic

Old Norse

hǫnd

Danish

hånd

Icelandic

hönd

West Germanic

Old English

hand

Frankish

*hant

Old High German

hant

German

Hand

Yiddish

האַנט

hant

Pre-Proto-Indo-European

**de-ḱm̥t?

two hands

Proto-Indo-European

*déḱm̥

ten

Proto-Albanian

*detsati

Old Armenian

տասն

tasn

Balto-Slavic

*dešimtis

Lithuanian

dešimt

Slavic

*desętь

East Slavic

десѧть

desętĭ

South Slavic

Old Church Slavonic

десѧть

desętĭ

Serbo-Croatian

десет

deset

West Slavic

Celtic

*dekam

Brythonic

*deg

Old Irish

deich

Germanic

*tehun

East Germanic

North Germanic

West Germanic

Old English

tīen

Frankish

*tian

Old High German

zehan

Old Saxon

tehan

Germanic

*tehundô

tenth

East Germanic

Gothic

𐍄𐌰𐌹𐌷𐌿𐌽𐌳𐌰

taihunda

tenth

North Germanic

Old Norse

tíundi

tenth

Danish

tiende

tithe

Icelandic

tíundi

tenth

Old Norse

tíund

tithe

West Germanic

Old English

tēoþa

tenth

English

tithe

English

tenth

Scots

teind

tithe

[2]

Frankish

*tiando

Old High German

zehanto

German

zehnte

tenth

Yiddish

צענט

tsent

tenth

Hellenic

*dékə

Ancient Greek

δέκα

déka

Greek

δέκα

déka

English

deca-

Indo-Iranian

*dáĉa

Indo-Aryan

*dáśa

Dardic

*dáša

Sanskrit

𑀤𑀰

dáśa

Elu

Magadhi

𑀤𑀰

daśa

Bengali

দশ

dôś

Rohingya

doc

Maharashtri

𑀤𑀳

daha

Pali

dasa

Sauraseni

𑀤𑀲

dasa

Madhya

Pahari

Nepali

दस

dasa

Punjabi

ਦਸ

das

Iranian

*dáĉa

Avestan

dasā

Northern Iranian

Pashto

لس

las

Western Iranian

Northwestern Iranian

Kurdish

deh

Parthian

𐫅𐫘

ds

Old Persian

*daθa

Nuristani

*dáĉ

Italic

*dekem

Latin

decem

Sardinian

deghe

Eastern Romance

Dalmatian

dic

Romanian

zece

Western Romance

French

dix

Italian

dieci

Spanish

diez

Latin

decānus

leader of a group of ten people, dean

Western Romance

Old French

deien

French

doyen

dean, doyen

English

dean

Spanish

deán

dean

Italian

decano

dean, doyen

Spanish

degano

ranch administrator

Latin

decimō

Latin

*decumo-mēnsris

of/in the tenth month

Medieval Latin

decimalis

Tocharian

*śäk

[3]

Proto-Indo-European

*(d)ḱm̥tóm

hundred

lit. "tenth"?

Balto-Slavic

*śimta-

Lithuanian

šimtas

Slavic

*sъto

irregular,

**sęto

would be expected

East Slavic

South Slavic

Old Church Slavonic

съто

sŭto

Serbo-Croatian

сто̑

stȏ

West Slavic

Celtic

*kantom

Brythonic

*kant

Old Irish

cét

Dacian

Germanic

*hundã

hundred

[4]

East Germanic

West Germanic

Old English

hund

Frankish

*hund

Dutch

hond

old unit of land area, 100 roeden

Old High German

hund

Germanic

*hundaradã

hundred

lit. "hundred-count"

[4]

North Germanic

Old Norse

hundrað

Danish

hundred

Icelandic

hundrað

West Germanic

Old English

hundred

English

hundred

Scots

hunder

Frankish

*hundert

Old Saxon

hunderod

Low German

hunnert

Middle High German

hundert

German

Hundert

Yiddish

הונדערט

hundert

Hellenic

*he-kətón

hundred

lit. "one-hundred? the-hundred?"

Ancient Greek

ἑκατόν

hekatón

Greek

εκατό

ekató

English

hecato-

Arcadocypriot

ἑκοτόν

hekotón

Indo-Iranian

*ĉatám

Indo-Aryan

*śatám

Dardic

*šatá

Sanskrit

𑀰𑀢

śatá

Elu

Magadhi

𑀰𑀢

śata

Bengali

শত

śôt

Rohingya

cót

Maharashtri

𑀲𑀅

saä

Pali

sata

Sauraseni

𑀲𑀤

sada

Madhya

Pahari

Nepali

सय

saya

Punjabi

ਸੌ

sau

West Indo-Aryan

Iranian

Avestan

satəm

Northern Iranian

Pashto

سل

sël

Western Iranian

Northwestern Iranian

Old Persian

*θata-

Finno-Ugric

*śata

Finnic

*sata

Mordvinic

Permic

*śod

Samic

*čuotē

Ugric

Hungarian

száz

Hungarian

százszorszép

daisy

lit. "hundred-times-beautiful"

Italic

*kentom

Latin

Sardinian

Eastern Romance

Western Romance

French

cent

Italian

cento

Spanish

ciento

Latin

centuria

century, 100 of anything

French

centurie

Latin

centuriō

centurion, commander of 100 soldiers

Latin

centēnārius

hundredfold, containing hundred

English

centenary

Arabic

قِنْطَار

qinṭār

hundredweight, 100 riṭl

Medieval Latin

quintale

hundredweight, 100 pounds

French

quintal

hundredweight, 100 pounds or 100 kilograms

English

quintal

hundredweight, 100 pounds or 100 kilograms

Latin

centipelliō

third stomach of a ruminant; psalterium, omasum

lit. "hundred-skin"

Eastern Romance

Romanian

cimpoi

stomach of a ruminant, bellows, bagpipe

Western Romance

French

centi-

English

centum

Tocharian

*känte

Arshian

känt

Kushean

kante

Proto-Indo-European

*tuh₂s-ḱm̥tóm?

Balto-Slavic

*tūˀsantis

Lithuanian

tūkstantis

Slavic

*tỳsǫti

East Slavic

South Slavic

Old Church Slavonic

тꙑсѧщи

tysęšti

Serbo-Croatian

тѝсућа

tìsuća

West Slavic

Finnic

*tuhat

Germanic

*þūsundī

East Germanic

North Germanic

Old Norse

þúsund

Danish

tusinde

Icelandic

þúsund

West Germanic

Old English

þūsend

Frankish

*thūsunt

Old High German

thūsunt

German

tausend

Yiddish

טויזנט

toyznt

Old Saxon

thūsund
Visual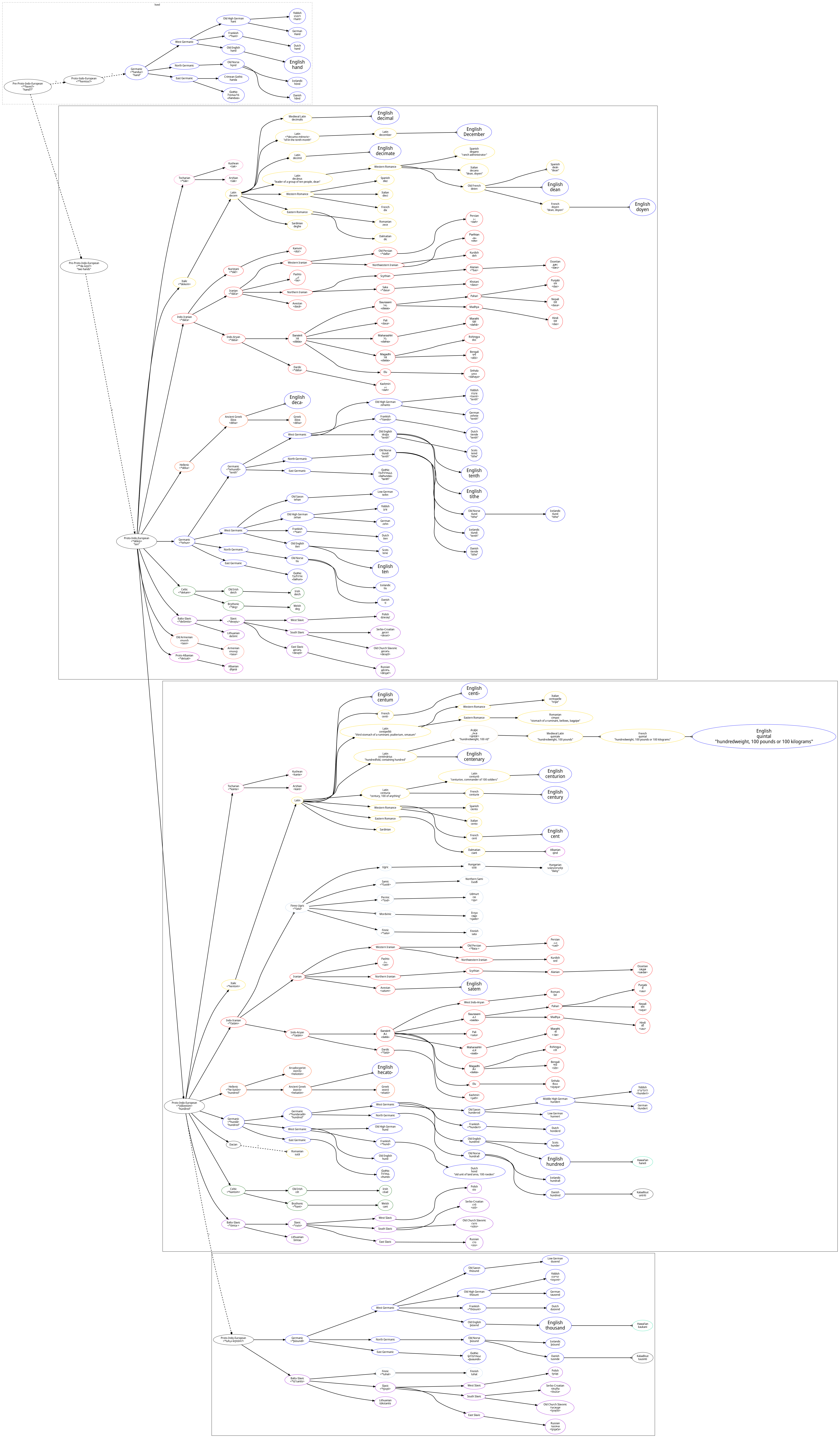 Collected English words
hand, ten, tithe, tenth, deca-, doyen, dean, decimate, December, decimal, hundred, hecato-, satem, cent, century, centurion, centenary, quintal, centi-, centum, thousand
Footnotes