June theme: Celtic Iron Age
Introduction
June's theme is linguistic effects of the Celtic Hegemony of the early Iron Age. The rest of the month will focus on words that were borrowed from Gaulish into Latin (things like very iconic Latin word gladius being borrowed from Gaulish, which appears in today's), but I'm going to start out with exploring some of the names of Celtic peoples. This was originally going to be a compare and contrast of two different families, but it ballooned into 3-4.
There are 3 interesting take aways from this:
The fairly ridiculous fact that Latin word

Gallus

/

Gallia

is unrelated to the French

Gaule

/

Gaulois

(whence English

Gaul

) of the same meaning. The regular descendant in French of

Gallia

would be

Jaille

, which does in fact appear in a handful of place names in western France, e.g. La Jaille-Yvon, Saint-Mars-la-Jaille.

Gaule

is from Frankish instead, and is cognate to English

Wales

.
The geographical breadth of Celtic peoples in the Iron Age, from Turkey to Portugal.
From our perspective on this time period, we tend to group the Celtic peoples in with the Germanic people of the era, as the barbarians. From the perspective of the Germanic and Slavic peoples, the Celtic peoples were grouped instead with the Romans; in many ways this is a more accurate classification.
Celt/Keltoi/Celtae may be from the same origin as Gallus, but might not. I present Celt and Gallus from two different sources here, but both are uncertain, being only attested in borrowings and not in any native forms. Either could actually be from the source shown for the other.
The Irish Gael is from another source again: Proto-Celtic *wēdelos: "woodsy, woodsman".
Nota Bene: Even just within English words, descendants of *walhaz refer to foreigners of at least three different branches of Indo-European: Celtic (the Welsh), Italic (the Walloons and Wallachians), and Indo-Iranian (the Vlax Romani).
Nota Bene 2: In Irish Gael means "Irish", gall means "not Irish". Gall-Ghàidheal (English Galloway) is a compound of the two meaning "Foreign-Irish", the Gaelic-speaking descendants of Norse settlers in south-west Scotland.
Teaser
Full Text
Proto-Indo-European

*gelH-?

Celtic

*galā

valor, ability

Brythonic

Welsh

gallu

ability, might, power

Old Irish

gal

valor, fighting spirit

Irish

gal

valor, fury, steam

Irish

láth gaile

warrior

Irish

tuirbín gaile

steam turbine

Gaulish

?

tribe name meaning "valorous"?

Ancient Greek

Γᾰλᾰ́της

Galátēs

Ancient Greek

Γᾰλᾰτῐ́ᾱ

Galatíā

Galatia, Gaul

Latin

Galatia

Galatia

place in Asia Minor settled by Celtic peoples around 4th C BCE

Latin

Gallia

Western Romance

French

Jaille

French

Saint-Mars-la-Jaille

place name

lit. "Holy Mars the Gaul"

French

La Jaille-Yvon

place name

lit. "The Gaul-Yew"

Ancient Greek

Γᾰλλῐ́ᾱ

Gallíā

Gaul

Greek

Γαλλία

Gallía

France

Old Irish

gall

foreigner, Gaul, Norseman

Irish

gall

foreigner, Gaul, Norman, Englishman, Anglified Irish person

Welsh

gelyn

enemy, foe

Old Irish

Irish

Dún na nGall

Donegal

lit. "Fort of the Norsemen"

Old Irish

gall óglaigh

foreign/norse warrior, gallowglass

Irish

gallóglaigh

gallowglass

Old Irish

Gall-Goídel

Norse-Irish, foreign-Irish

Gaelic speaking descendants of Norse settlers

Scots Gaelic

Gall-Ghàidhealaibh

Old Irish

Irish

Dubhghall

Dark-(haired)-Norseman/Foreigner

personal name

English

Dougal

Irish

Ó Dubhghaill

descendant of Dubhghall

surname

Gaulish

?

tribe name meaning "valorous"?

Latin

Gallaeci

Latin

Gallaecia

land of the Gallaeci

Western Romance

Spanish

Galicia

Latin

Portus Callus

Port of Callus

Western Romance

Portuguese

Portugal

Latin

Callus

Proto-Indo-European

*gʷʰe(H?)lk?

hawk? [1]

Celtic

*wolkos

hawk? [1]

Brythonic

Welsh

gwalch

hawk, rogue, rascal [1]

Gaulish

Uolk-?

tribe name of unknown native form

[1]

Latin

Volcae

Gaulish tribe

Germanic

*walhaz

foreigner, southerner, speaker of a Celtic or Romance language

East Germanic

Gothic

*walhs

Slavic

*vòlxъ

Roman, Romance speaker

East Slavic

волохъ

voloxŭ

Russian

волох

volox

Romanic person, Italian, Romanian

archaic

South Slavic

Serbo-Croatian

Вла̏х

Vlȁh

Vlach/Romanian, an (Eastern) Orthodox Christian (perjorative), Italian (archaic)

Old Church Slavonic

влахъ

vlaxŭ

Byzantine Greek

Βλάχος

Blákhos

Eastern Romance speaker, Vlach

Greek

Βλάχος

Vláchos

Vlach/Romanian

Turkish

Eflak

Wallachia

Hungarian

oláh

Vlach/Romanian

English

Vlach

West Slavic

German

Walachei

Wallachia

North Germanic

Old Norse

Valir

Southerners, Celts, Romans

Old Norse

Valland

Land of the Celts/Romans, Gaul [2]

West Germanic

Old English

wealh

foreigner, Celt, Welshman, slave, serf

Old English

Wealas

foreigners, the Welsh, Wales

English

Wales

Old English

Cornwealas

the Cornish Welsh, Cornwall

Old High German

walh

German

Walen-

German

Walensee

place name

lit. "Roman Sea"

German

Walchwil

place name

lit. "Romanville"?

Frankish

*walh

French

Gaule

Gaul

Dutch

Waal

Walon

walon

endonym

French-speakers in Belgium

French

wallon

French-speakers in Belgium, walloon

Germanic

*walhiskaz

foreign, Celtic, Roman

North Germanic

Old Norse

Swedish

välsk

southern, foreign, esp. French or Italian

West Germanic

Old English

wilisċ

foreign, not English, esp. Celtic/British/Welsh

Frankish

*walsk

Old High German

walahisc

German

welsch

pertaining to Romance-speaking parts of Switzerland, Welsh, foreign

English

welsh onion

German

Rotwelsch

a cant from southern Germany

lit. "red-foreign", where "red" is used to mean "beggar, itinerant"

Germanic

*walhahnuts

walnut [3]

North Germanic

Old Norse

valhnot

walnut

Danish

valnød

walnut

Icelandic

valhneta

walnut

West Germanic

Old English

walhhnutu

walnut

Frankish

Old High German

German

Walnuss

walnut

Yiddish

וועלשענער נוס

velshener nus

walnut

Celtic

*katuwolkos

battle-hawk

personal name/epithet?

[1]

Brythonic

Gaulish

Cativolcus

Battle-Hawk?

personal name

Italic

Proto-Indo-European

*kelh₂-

to beat, to break, to fight

Proto-Indo-European

*kelh₂-ti

primary verb form

Balto-Slavic

Lithuanian

kálti

to hammer

Celtic

*kel-to

to fight, to war

Celtic

*kellāko

fight, war

Old Irish

Irish

cellach

battle, strife, contention

Gaulish

?

Ancient Greek

Κελτοί

Keltoí

Celts, Gauls

Greek

Kελτοί

Kéltis

Celts, Gauls

Latin

Celtae

[4]

English

Celt

Japanese

ケルト人

kerutojin

Celt

Latin

Celtiberi

Celtiberian

Hellenic

Italic

*kello

to beat

Italic

*perkello

to thoroughly beat

Latin

percellō

to beat down, to overthrow, to smite

Proto-Indo-European

*kelh₂tís

Germanic

*hildiz

battle

East Germanic

North Germanic

Old Norse

hildr

battle

Icelandic

hildur

Old Norse

Gunnhildr

Battle-Maiden

personal name, lit. "battle-battle but in naming context, "battle maiden"

Middle English

Gunilda

Middle English

Domina Gunilda

a huge ballista mounted at Windsor Castle in the 14th C

West Germanic

Frankish

*hildija

Frankish

*Mahthildija

Might-Battle

personal name

Germanic

*Grīsahildiz

Grey-Battle

personal name

Germanic

*Hildirīks

Battle-King

personal name

East Germanic

Vandalic

*Hildireiks

Latin

Hildericus

Western Romance

English

Hilderic

West Germanic

Frankish

*Hildirīk

Latin

Childericus

Dutch

Hilderik

Italic

Latin

clādes

a breaking, destruction

Proto-Indo-European

*kl̥h₂dos

Hellenic

Ancient Greek

κλᾰ́δος

kládos

branch, twig, arm

Greek

κλάδος

kládos

branch, bough, clade

English

clade

Celtic

*kladiwos

Gaulish

*kladyos

Latin

gladius

Western Romance

French

glaive

gladius, short sword

Italian

ghiado

dagger

English

gladius

Italian

gladio

sword, rapier

Latin

gladiātor

swordsman, gladiator

Latin

gladiolus

little sword, knife, sword lily, gladiolus

Old Irish

claideb

sword

Irish

claíom

Scottish Gaelic

claidheamh

sword

Scottish Gaelic

claidheamh mòr

great sword

Proto-Indo-European

*kelh₂do

Germanic

*heltą

handle, hilt

North Germanic

Old Norse

hjalt

hilt

Danish

hjalte

Icelandic

hjalt

hilt

West Germanic

Old English

hilt

Old High German

helza

Proto-Indo-European

*kolh₂do

Germanic

*hultą

wood, timber, grove

North Germanic

Old Norse

holt

Danish

holt

Icelandic

holt

hillock, wood

West Germanic

Old English

holt

wood, timber, grove

Frankish

holt

Old High German

holz

wood

Proto-Indo-European

*kl̥h₂yo-

Celtic

*kallī-

Brythonic

Welsh

celli

copse, grove, woodland

Old Irish

caill

forest, woodland

Proto-Indo-European

kolh₂-ti

Balto-Slavic

Lithuanian

kùlti

to hit

Slavic

*kòlti

to stab, to sting

East Slavic

Russian

коло́ть

kolótʹ

to stab, to break, to split, to prick

South Slavic

Serbo-Croatian

кла̏ти

klȁti

to chop, to cut, to butcher

West Slavic

Polish

kłuć

to prick, to prickle

Proto-Indo-European

*kolh₂-p?-yos

[5]

Hellenic

Ancient Greek

κολάπτω

koláptō

knock, peck, hew [5]

Ancient Greek

δρυοκολάπτης

dryokoláptis

woodpecker

Greek

<δρυοκολάπτης

dryokoláptis

woodpecker

Ancient Greek

κόλᾰφος

kólaphos

a buffet, a blow, a peck

Greek

κόλαφος

kólafos

a slap

Latin

colaphus

a blow, a cuff

Western Romance

French

coup

blow, hit, strike, any fast action

English

coup

French

coupé

cut, shortened

Italian

colpo

blow, shock, shot

Spanish

golpe

blow, knock, bump, beat, rhythm, surprise

Proto-Indo-European

*weydʰ-

woods, wilderness

Proto-Indo-European

*weydʰos

wild, woodsy

Celtic

*wēdus

Brythonic

*guɨðel

woodsman, Irishman

Breton

Gouezel

Gael

Welsh

Gwyddel

Irishman

Old Irish

Goídel

Irishman, Gael

Irish

Gael

Gael

Scottish Gaelic

Gàidheal

Gael, highlander

Old Irish

Gall-Goídel

Norse-Irish, foreign-Irish

Gaelic speaking descendants of Norse settlers

Scots Gaelic

Gall-Ghàidhealaibh

Old Irish

fíad

wilderness, uncultivated land, wild animals, game
Visual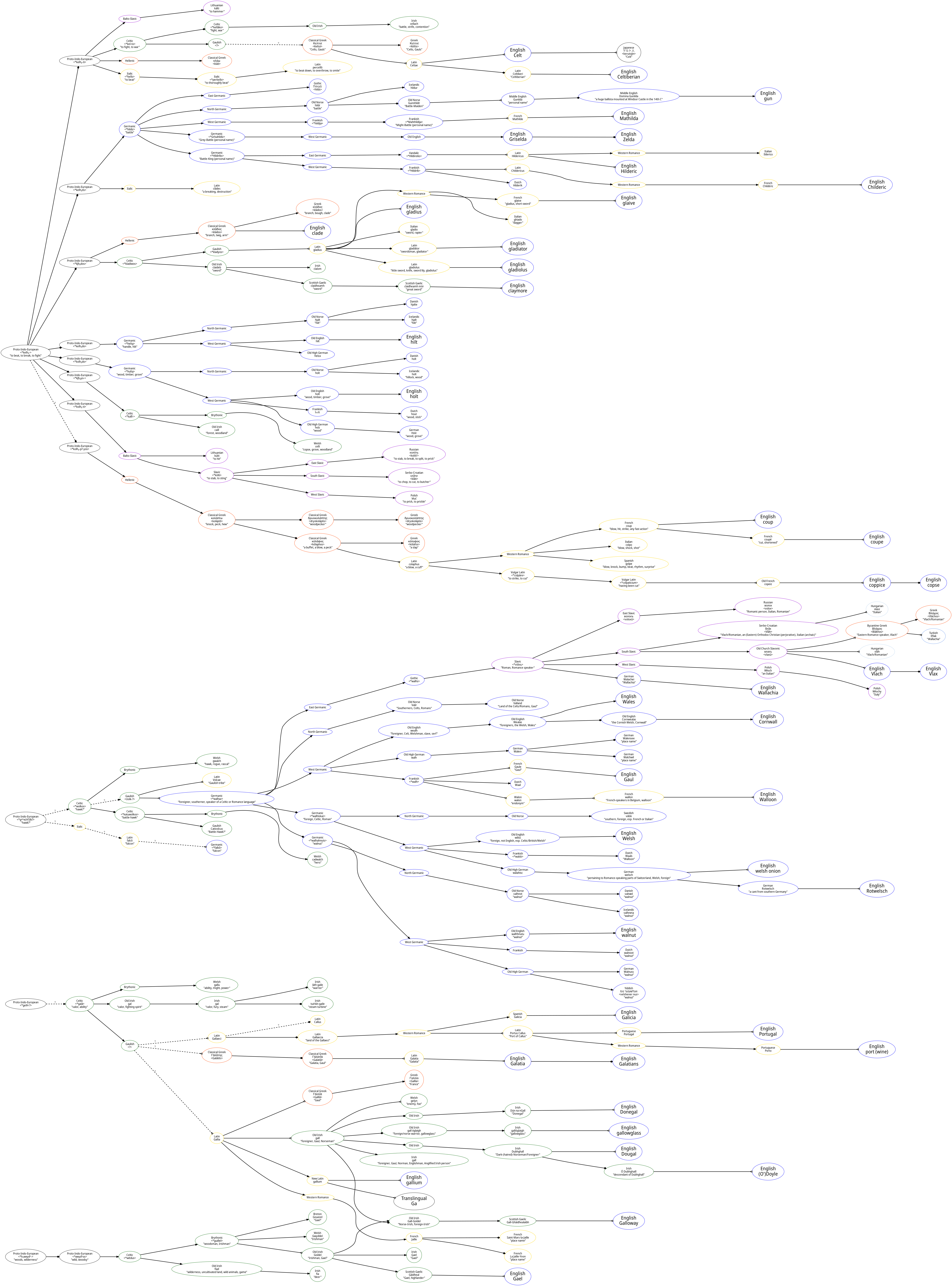 Collected English words
Footnotes