December theme: Religion 📿
Introduction
*bʰewdʰ- vs. *gʷʰedʰ-: two families that end up being super confusing in Germanic languages, since *bʰ and *gʷʰ merge at the beginning of a word. In English, they end up being homophones with complementary/opposite meanings: "offer" vs. "ask for".
I had to do these two at the same time just to make sure I was tracking which words go where, because the dictionaries and other sources sometimes also mix them up. Even in the rest of the Germanic langauges where the two English bids aren't complete homonyms the meanings can get awfully confusing; compare German bitten, to ask someone to do something (bid) vs. ver-bieten, to ask someone _not_ to do something (forbidden).
They probably don't have a common derivation. Probably. If they do, it's before reconstructable language.
Also, Happy Bodhi Day (Japanese Calendar variant).
Teaser
Full Text
Proto-Indo-European

*bʰewdʰ-

to be awake, to be aware

Proto-Indo-European

*bʰéwdʰeti

being awake, being aware

Balto-Slavic

*bljaustei

Slavic

*bljustì

to watch

East Slavic

Russian

блюсти́

bljustí

to guard, to keep, to watch over

South Slavic

Old Church Slavonic

блюсти

bljusti

Serbo-Croatian

бљу̏сти

bljȕsti

Germanic

*beudanã

to offer, to bid, to command?

West Germanic

Old English

bēodan

to offer, to give, to announce

English

bid

to offer a price, to make an attempt

[1]

Old English

Bīeda

personal name

English

(Saint) Bede (the Venerable)

Old High German

biotan

to offer

German

bieten

to offer, to present, to bid

Old Norse

bjóða

Danish

byde

to order, to command, to invite, to offer

Icelandic

bjóða

to offer, to invite, to command

East Germanic

Germanic

*furibeudaną

to forbid, to command against

West Germanic

Old English

forbēodan

to forbid, to restrain

Old High German

firbiotan

German

verbieten

to forbid, to prohibit

Old Norse

fyrirbjóða

Danish

forbyde

to disallow, to forbid, to ban

East Germanic

Gothic

𐍆𐌰𐌿𐍂𐌱𐌹𐌿𐌳𐌰𐌽

faurbiudan

to forbid

Hellenic

*péutʰomai

Ancient Greek

πεύθομαι

peúthomai

Ancient Greek

πυνθάνομαι

punthánomai

Indo-Iranian

Indo-Aryan

Sanskrit

𑀩𑁄𑀥𑀢𑀺

bódhati)

Magadhi

Bengali

বোঝা

bojha

to understand

Iranian

Avestan

baoδaiti

Western Iranian

Persian

بیدار‏

bīdār

awake

Proto-Indo-European

*bʰudʰtós

one who has awoken, one who is known

Hellenic

Ancient Greek

πυστός

pustós

known, familiar, famous

Indo-Iranian

Indo-Aryan

Sanskrit

𑀩𑀼𑀤𑁆𑀥

buddha

awoken, enlightened, the Buddha

Sauraseni

Pali

Buddha

the enlightened one, the Buddha

Thai

พุทธ

pút

Buddha

Middle Chinese

佛陀

bɨutdɑ

Buddha

Mandarin

佛

Fó

Buddha

Japanese

ぶ​つだ

Butsuda

Buddha

Korean

부처

Bucheo

Buddha

Sogdian

bwt

the Buddha, statue of the Buddha

Persian

بت

bot

idol, Buddha statue

Hindi

बुत

but

idol, statue, fetish

Persian

بت‌خانه‏

bot-khāne

temple, shrine

lit. "idol-house"

Hindi

बुत-ख़ाना

but-khānā

temple, pagoda

English

Buddha

Hindi

बुद्ध

buddh

Buddha

Telugu

బుద్ధుడు

buddhuḍu

wise person, sage, enlightened person, the Buddha

Iranian

Avestan

busta

realized, oberved

Proto-Indo-European

*bʰowdʰéyeti

to make aware, to awaken

causative imperfective

Balto-Slavic

*baudeitei

Lithuanian

báudyti

incite, instigate, to encourage

Slavic

*buditi

to awaken, to rouse

East Slavic

Russian

буди́ть

budítʹ

to wake up, to awaken

South Slavic

Serbo-Croatian

бу́дити

búditi

to awaken, to rouse, to begin (of an era, etc.)

West Slavic

Indo-Iranian

Indo-Aryan

Sanskrit

𑀩𑁄𑀥𑀬𑀢𑀺

bodhayati

to awaken, to restore to life or consciousness, to cause to observe

Iranian

Proto-Indo-European

*bʰudʰis

awareness, awakeness, knowledge

Indo-Iranian

Indo-Aryan

Sanskrit

𑀩𑁄𑀥𑀺

bodhi

perfecent knowledge, englightenment, bodhi

Pali

𑀩𑁄𑀥𑀺

bodhi

perfect knowledge, englightenment, bodhi

Middle Chinese

Mandarin

菩提

pútí

bodhi

Japanese

ぼだい

bodai

bodhi

Korean

보리

bori

bodhi

Thai

โพธิ

poo-tí

bodhi

English

bodhi

Sanskrit

𑀩𑁄𑀥𑀺𑀲𑀢𑁆𑀢𑁆𑀯

bodhi-sattva

one on the way to enlightenment, Buddhist saint, bodhisattva

Pali

bodhisatta

bodhisattva

Arshian

bodʰisattu

bodhisattva

Middle Chinese

菩提薩埵

buo dei sɑt tuɑh

bodhisattva

Mandarin

菩薩

púsà

bodhisattva

Japanese

ぼさつ

bosatsu

bodhisattva,

Thai

โพธิสัตว์

poo-tí-sàt

bodhisattva

English

bodhisattva

Persian

بودسف

Bodisav

Proto-Indo-European

*bʰudʰyétor

Indo-Iranian

Indo-Aryan

Sanskrit

𑀩𑀼𑀥𑁆𑀬𑀢𑁂

búdhyate

to wake, to know, to understand

Iranian

Avestan

būiδiiaēta

they should be taught

Proto-Indo-European

*bʰudʰéh₁yeti

to be particularly awake?

intensive imperfective

Balto-Slavic

*budeʔtei

Lithuanian

budė́ti

to be awake, to watch, to be on duty

Slavic

*bъděti

East Slavic

бъдѣти

bŭděti

Russian

бдеть

bdetʹ

to keep watch, to keep vigil

dated, literary

South Slavic

Old Church Slavonic

бъдѣти

bŭděti

to watch over, to keep vigil

Serbo-Croatian

бде̏ти

bdȅti

to watch over, to keep vigil

West Slavic

Czech

bdít

to be awake, to watch over

Proto-Indo-European

*bʰowdʰos

Celtic

*bowdos

Celtic

*ɸrobowdos

Brythonic

Welsh

rhybudd

warning, advice, notice

Old Irish

robud

forenotice

Indo-Iranian

Indo-Aryan

Sanskrit

𑀩𑁄𑀥

bodha

Sauraseni

Madhya

Hindi

बोध

bodh

insight, knowledge, perception, congition

Iranian

Tocharian

*pāut-

Arshian

pot-

to honor, to flatter

Kushean

paut-

to honor, to flatter

Kushean

pauto

honor, flattery

Proto-Indo-European

*bʰéwdʰtis

abstract action noun

Balto-Slavic

Lithuanian

bùsti

wake up, wake

Hellenic

Ancient Greek

πῠ́στῐς

pústis

inquiry, question, news, report

Indo-Iranian

Indo-Aryan

Sanskrit

𑀩𑀼𑀤𑁆𑀥𑀺

buddhi

intelligence, reason, intellect

Madhya

Hindi

बुद्धि

buddhi

intelligence

Iranian

Proto-Indo-European

*bʰudʰo

Celtic

*budos

Brythonic

Welsh

bodd

free will, consent

Germanic

*budą

offer, message

West Germanic

Old English

bod

command, order, mandate

Old Norse

boð

Danish

Icelandic

boð

message, order, offer, omen

Germanic

*budô

messenger

West Germanic

Old English

boda

messenger, envoy, apostle, angel, prophet

Old High German

boto

messenger, envoy

German

Bote

messenger, letter carrier, apostle

German

Botschaft

news, tidings, embassy

Germanic

*budilaz

messenger, herald, bearer of an order

West Germanic

Old English

bydel

herald, warrant officer, announce, preacher

English

beadle

parish constable, warrant officer

Scots

bedel

attendant to a minister

Old High German

butil

German

Büttel

court officer, policeman, menial

Frankish

*budil

Dutch

beul

executioner, torturer, cruel person

Medieval Latin

bedellus

French

bedeau

attendant at a church, caretaker of a church

Italian

bidello

caretaker, janitor

Spanish

bedel

janitor

Germanic

*budōnã

to proclaim, to announce, to instruct

West Germanic

Old English

bodian

announce, foretell, preach

Indo-Iranian

Indo-Aryan

Sanskrit

𑀩𑀼𑀥

budha

Mercury (planet), Puranic Hindu divinity associated with intellect, wit, communication, trade, and the planet Mercury

Magadhi

Bengali

বুধ

budh

Mercury (planet)

Sauraseni

Madhya

Hindi

बुध

budh

Mercury (planet)

Pali

Mongolian

Буд

Bud

Mercury (planet)

Thai

ดาวพุธ

daao-put

Mercury (planet), Budha (Hindu deity)

Thai

วันพุธ

wan pút

Wednesday

Telugu

బుధుడు

budhuḍu

Mercury (planet)

Sanskrit

𑀩𑀼𑀥𑀯𑀸𑀭

budhavāra

Wednesday

Mercury's day

[3]

Elu

Sinhala

බදාදා

badādā

Wednesday

Magadhi

Bengali

বুধবার

budhbar

Wendesday

Sauraseni

Madhya

Hindi

बुधवार

budhvār

Wednesday

Telugu

బుధవారము

budhavāramu

Wednesday

Proto-Indo-European

*bʰudʰrós

wakeful

Balto-Slavic

*budras

Lithuanian

budrùs

vigilant

Slavic

*bъ̀drъ

alert, cheerful

East Slavic

Russian

бо́дрый

bódryj

cheerful, brisk, vivacious

South Slavic

Serbo-Croatian

бо̏дар

bȍdar

alert, brisk, keen, strong

Indo-Iranian

Proto-Indo-European

*gʷʰedʰ-

to request, pray, ask for

Proto-Indo-European

*gʷʰédʰyeti

to be praying, to be asking for

Balto-Slavic

Lithuanian

gedė́ti

to mourn

Lithuanian

gedė́jimas

mourning (noun)

Slavic

*žę̄dàti

to wish, to desire

East Slavic

жѧдати

žędati

Russian

жада́ть

žadátʹ

crave, thirst for (archaic)

South Slavic

Old Church Slavonic

жѧдати

žędati

to thirst, to desire

West Slavic

Celtic

*gʷedyeti

to pray

Brythonic

Old Irish

guidid

to pray

Germanic

*bidjanã

to request, to ask for

East Germanic

Gothic

𐌱𐌹𐌳𐌾𐌰𐌽

bidjan

to request, to ask, to pray, to beg

Gothic

𐌱𐌹𐌳𐌰𐌲𐍅𐌰

bidagwa

beggar

North Germanic

Old Norse

biðja

to ask, to beg, to request, to pray

Danish

bede

to ask, to beg, to request, to pray

Icelandic

biðja

to ask, to request, to pray

West Germanic

Old English

biddan

to ask for, to entreat, to beg, to demand

English

bid

to issue a command, to invite, to summon, to utter a greeting

[1]

Frankish

Old High German

bitten

to ask

German

bitten

to ask, to plead, to beg, to request

Indo-Iranian

Iranian

Avestan

jaiδiiemi

Western Iranian

Old Persian

𐎩𐎮𐎡𐎹𐎠𐎷𐎡𐎹

ja-di-i-y-a-mi-i-y

I pray

Proto-Indo-European

*gʷʰedʰeh₂

noun derivation

Balto-Slavic

Slavic

*žęďa

thirst, craving, wish, desire

East Slavic

жажа

žaža

South Slavic

Old Church Slavonic

жѩжда

žjęžda

Russian

жа́жда

žážda

thirst, craving

Serbo-Croatian

же̑ђ(а)

žȇđ(a)

thirst

West Slavic

Polish

żądza

lust, craaving

Germanic

*bedō

a request, a prayer, a plea

East Germanic

Gothic

𐌱𐌹𐌳𐌰

bida

request, prayer, plea

West Germanic

Old English

bedu

request, prayer, religious worship

English

bead

[4]

Scots

bede

prayer, rosary

Old English

Bīeda

personal name

English

(Saint) Bede (the Venerable)

Frankish

Old High German

bita

request, inquiry

Germanic

*bedōną

to pray

West Germanic

Old High German

betōn

to pray

Proto-Indo-European

*gʷʰédʰtis

abstract action noun

Proto-Armenian

*god-i-

Old Armenian

գոթի

gotʿi

worship, sorcery

Celtic

*gʷeddis

Brythonic

Old Irish

geis

curse, taboo

Irish

geis

magical injunction, spell, prohibition, taboo

Scottish Gaelic

geas

Proto-Indo-European

*gʷʰodʰyeh₂

Proto-Indo-European

*gʷʰedʰos

action or result noun

Hellenic

Ancient Greek

πόθος

póthos

longing, regret, desire

unrelated to

páthos

of similar meaning

Greek

πόθος

póthos

longing, regret, desire
Visual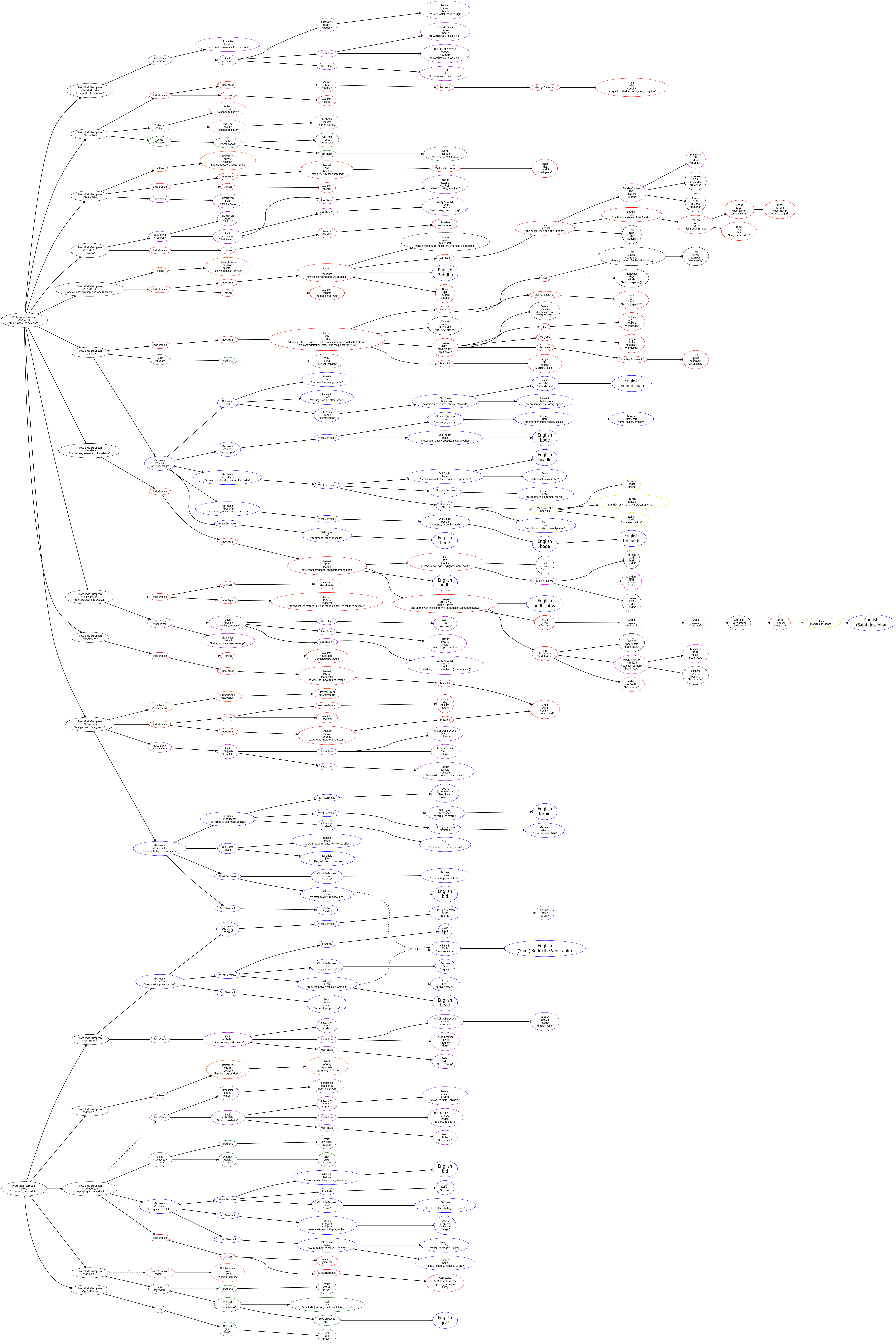 Collected English words
bid, forbid, Buddha, bodhi, bodhisattva, (Saint) Josaphat, bode, bode, beadle, bode, forebode
Footnotes