November theme: Spiders 🕷
Teaser
sweep, weave, web, wasp, Vespa, whip, veer, vibrate
Introduction
*ksweyb- is a _very_ weird root. It has too many consonant, and way too many in the onset. It has a /*b/ which is an unusual/marginal phoneme in PIE. It is related to a number of variant roots, including some which appear to vary between /p/, /b/, and /bʰ/ for the last consonant (collectively symbolized as P). Further, one of the apparently derived roots uses morphology that was mostly lost in late Indo-European, so as a secondary root it must have been derived very early.
Only Indo-Iranian really can fully preserve a /*ks/ onset. Here are the four other Indo-Iranian words I can find starting with /*kš/, which demonstrate how weird this is as an IE onset
*kšatrám

: "kingdom, rule, reign". Unknown origin, tenatively linked to PIE

*tek-

: "to take, to receive, to obtain" (though I think a BMAC origin is also a possibility)

*kšnáwti

: "to hear, to sharpen". Derived from a reanalysis of the root

*kes-

: "to scrap, to comb" and with a

*-néwti

compound, that is something like a transitive imperfective causative??

*kšáwdas

: "swell of the sea, flush of water?", unknown source. Might have a Baltic cognate in Lithuanian

šūdas

: "smoke, sweat, shit"??

*kšīrám

: "milk", unknown source, assumed to be a BMAC borrowing.
Simalrly, I know of no other case where Welsh /hw-/ onset corresponds to Irish /sc-/, which tentatively gives a Celtic reconstruction of /*xsw-/.
I have to theorize that this has an unusual origin, either a borrowing from an unknown adstrate or a possibly an onomatopoeia, which IE speakers have been desperately trying to fit into a reasonable shape ever since.
I wonder if it was related to a technology event, adopting some piece of weaving technology.
To get into completely wild speculation: the complex onset and the makes me wonder about a Sino-Tibetan connection, possibly the Sino-Tibetan root meaning "to weave" that gives Tibetan btang and Mandarin zhi/Cantonese zik (Old Chinese <*tjɯɡs); and presumably Thai tàk and chák.
That in turn calls to mind the example of the **mr root for "horse" which appears through out Asia (link), and suggests further possible connection to (as a doublet) Indo-European *teḱ-: "to produce, to weave", Proto-Turkic *doku-: "to weave", and/or Proto-Finnic *kuda-: "to weave". This is vastly beyond the scope of the comparative method, but if the word was borrowed from a highly marked source (and *ksweyb- certainly suggests a highly marked source!), those are all possible attempts to fit the word into native phonologies.
Full Text
Pre-Proto-Indo-European

*ksweyb-

to swiftly, to swing, to shake, to cast

Proto-Indo-European

*kswéyP-eti

Germanic

*swībaną

to revolve, to sway, to stray

East Germanic

North Germanic

Old Norse

svífa

to rove, to ramble, to swerve

Icelandic

svífa

to hover, to glide, to soar

West Germanic

Old English

swīfan

to move along a path, to revolve, to sweep, to intervene

Indo-Iranian

*kšwáyPati

Iranian

*xšwáypati

to vibrate, to tremble, to whip

Western Iranian

Northwestern Iranian

Kurdish

šēwā

to be excited

Old Persian

Persian

šīwīdan

to be mixed up, to mix, to tremble, to shake

Iranian

*fraxšwáypati

whip forward?

Proto-Indo-European

*kwseybʰeh₂y-eti

causative

Balto-Slavic

Slavic

*šibati

to whip

East Slavic

шибати

šibati

to beat, to hit

Russian

шиба́ть

šibátʹ

to throw, to hit

South Slavic

Old Church Slavonic

шибаахѫ

šibaaxǫ

whipped

Serbo-Croatian

ши̏бати

šȉbati

to whip, to flog

Proto-Indo-European

*kswip-éti

Indo-Iranian

*kšwipáti

Indo-Aryan

*kṣipáti

Sanskrit

क्षिपति

kṣipáti

to throw, to cast off, to move hastily, to pass over

Proto-Indo-European

*kswibʰnéh₂-ti

Germanic

*swippōną

to move swiftly, to swerve

North Germanic

Old Norse

svipa

Danish

svippe

Icelandic

svipa

riding crop, whip

West Germanic

Germanic

*swaipaną

to sweep, to sway, to swing, to wrap

o-grade intensive

North Germanic

Old Norse

sveipa

to sweep, to stroke, to wrap, to fling

Icelandic

sveipa

to swaddle, to wrap

Old Norse

sveipr

fold, stir, disturbance

Danish

svøb

swaddling blanket

Icelandic

sveipur

curl (of hair), gust (of wind)

West Germanic

Old English

swāpan

to sweep

English

sweep

English

swoop

Old English

*swappian

to hurl, to strike

Old High German

sweifan

to swing, to sway

German

schweifen

to wander, to rove, to curve

Proto-Indo-European

*kswoybʰéy-eti

Celtic

*xswibīti

to move, to recede

Brythonic

*hwɨβid

Welsh

chwifio

to wave, to brandish, to flourish

Old Irish

*scibid

Middle Irish

scibid

to move, to flinch, to draw back

Indo-Iranian

*kšwaypáyati

Indo-Aryan

*kṣaypáyati

Sanskrit

क्षेपयति

kṣápayati

to throw into, to injure, to cause to descend into

Proto-Indo-European

*kswiPtó-s

quick, shaking

adjective

Germanic

*swiftaz

quick, swift

West Germanic

Old English

swift

quick, swift

Early Proto-Indo-European

*webʰ-

to weave

Proto-Indo-European

*wébʰ-eti

thematic imperfective

Germanic

*webaną

to weave

North Germanic

Old Norse

vefa

to weave

Danish

væve

to weave

Icelandic

vefa

to weave

West Germanic

Old English

wefan

to weave

Frankish

*wevan

Old High German

weban

German

weben

to weave

Yiddish

וועבן

vebn

to weave

Proto-Indo-European

*wébʰ-ti

athematic imperfective

Indo-Iranian

*wabdʰi

Iranian

*wabdi

Avestan

vaf-

to weave

Western Iranian

Northwestern Iranian

Old Persian

Persian

بافتن

bâftan

weaves

Proto-Indo-European

*wobʰéy-eti

causative

Germanic

*wabijaną

North Germanic

Old Norse

vafra

to flicker, to wander, to totter

Icelandic

vafra

to hover, to roam

English

waver

West Germanic

Old English

wafian

to wave

Proto-Indo-European

*unébʰ-eti

ne transitive imperfective

Indo-Iranian

*umbʰáti

Indo-Aryan

*umbʰáti

Sanskrit

उम्भति

umbháti

to unite, to lace together, to cover over

Sanskrit

उनब्द्धि

unábddhi

to bind, to compress

Proto-Indo-European

*ubʰy-éti

ye intransitive imperfective

Hellenic

Ancient Greek

ῠ̔φαίνω

huphaínō

I weave

Greek

υφαίνω

yfaíno

I weave

Ancient Greek

ῠ̔φή

huphḗ

web

Ancient Greek

ὑφάντης

huphántēs

weaver

Greek

υφαντης

ifantis

weaver

also an occupational surname

Indo-Iranian

*ubʰyáti

Iranian

*ubyáti

Avestan

ufiia-

to weave, to web

Proto-Indo-European

*ubʰnéH-ti

stative?

Indo-Iranian

*ubʰnáHti

Indo-Aryan

*ubʰnā́ti

Sanskrit

उभ्नाति

ubhnā́ti

to entangle, to cover, to hurt

Iranian

*ubnáHti

Western Iranian

Northwestern Iranian

Kurdish

hûnan

to braid, to plait, to knit

Proto-Indo-European

*wobʰeh₂-ti

iterative

Tocharian

*wäp-ṣə

Arshian

wäp-ṣ

to weave

Kushean

wāp-ṃ

to weave

Proto-Indo-European

webʰnyo?

Proto-Indo-European

*ubʰt-ós

woven

adjective

Indo-Iranian

*ubdʰás

Iranian

*ubdáh

Avestan

ubdaēna

woven, made of cloth

Proto-Indo-European

wébʰ-us

Caland adjective

Indo-Iranian

*wabʰuš

Iranian

*wabuš

Avestan

vafūš

web, hymn, prophecy, teaching

Proto-Indo-European

*wobʰy-os

probably an adjective?

Germanic

*wabją

web, woven thing

North Germanic

Old Norse

vefr

web

Danish

væv

web, loom, tissue

Icelandic

vefur

web, tissue

West Germanic

Old English

webb

web

English

web

Scots

wob

piece of woven cloth

Frankish

*webbi

Old High German

webbi

Old High German

spinnūnwebbi

German

Spinnwebe

spiderweb, cobweb

Proto-Indo-European

*wobʰs-éh₂

wasp

animate substantive "~weaver"?

[1]

Balto-Slavic

*wops(w)aʔ

Lithuanian

vapsvà

wasp

Old Prussian

wobse

wasp

Slavic

*osà

wasp

East Slavic

South Slavic

Old Church Slavonic

ⱁⱄⰰ

osa

wasp

Serbo-Croatian

о̀са

ósa

wasp

West Slavic

Celtic

*woxsā

Brythonic

*gwoxi

Welsh

gwchi

drone

Irish

foich

cankerworm?

Germanic

*wapsō

West Germanic

Old English

wæsp

wasp

Frankish

*wespa

Dutch

wesp

wasp

Old French

wespe

[2]

Old High German

wafsa

Germanic

*wapsijō

West Germanic

Old Saxon

wepsia

Low German

Weps

wasp

Danish

hveps

wasp

Indo-Iranian

*wabžʰáH

wasp

Iranian

*wabžáH

wasp

Western Iranian

Northwestern Iranian

Medean

*vabžā́

Kurdish

moz

hornet, wasp, gadfly, bee

Armenian

մոզ

moz

to shy, to flinch, to shirk

Old Persian

*vabžā

Iranian

*wabžakah

[3]

Nuristani

*wašpiku

Italic

*waspā

Latin

vespa

wasp

Sardinian

espa

Eastern Romance

Western Romance

Old French

wespe

wasp

[2]

Italian

vespa

wasp

Italian

Vespa

a brand of motor scooter

Italian

vespa

motor scooter

English

Vespa

Spanish

avispa

wasp

influence by

abeja

: "bee"

Translingual

Vespa

a taxonomic genus of wasps

Proto-Indo-European

*wébʰt-is

a weaving

noun

Germanic

*wiftiz

act of weaving, a weaving

West Germanic

Old English

wift

Old High German

giwift

weaved, woven

Proto-Indo-European

weyP-

to move back and forth, to wind, to wrap

Proto-Indo-European

*wéyP-eti

thematic imperfective

Indo-Iranian

*wáypati

to tremble

Indo-Aryan

*wáypati

Sanskrit

वेपते

vépate

to waver, to tremble, to be agitated

Iranian

*wáypati

to swing, to shake

Avestan

vaēpaiia

to be homosexual

Northern Iranian

Western Iranian

Old Persian

Persian

گیفر

geyfar

butterchurn

Proto-Indo-European

*wiPy-éti

intransitive imperfective

Balto-Slavic

Lithuanian

viẽpti

to make a face, to gape

Germanic

*wibjaną

to move back and forth, to waver

West Germanic

Frankish

Middle Dutch

Dutch

wippen

to see saw, to overthrow, to hop

English

whip

Old High German

wipfōn

to scurry, to bob

Tocharian

Kushean

wip-ṃ

to shake, to swing

Proto-Indo-European

*woyPeh₂y-éti

iterative or causative

Germanic

*waibōną

West Germanic

Old English

wāfian

to be agitated, to be amazed, to wonder at

Old Saxon

Low German

wabbeln

to wobble, to shake, to wiggle

Proto-Indo-European

*woyPéy-eti

causative imperfective

Germanic

*waibjaną

East Germanic

Gothic

*waibjan

Gothic

𐌱𐌹𐍅𐌰𐌹𐌱𐌾𐌰𐌽

biwaibjan

to wrap, to clothe

Galician

gueifa

mouldboard

part of a plow which turns over the furrow

North Germanic

West Germanic

Frankish

*weiven

Dutch

wuiven

to wave, to beckon

Old High German

*weibjan

Old High German

ziweibjan

to scatter, to disperse

Proto-Indo-European

wiPéh₁-ti

to be moving back and forth

state/factitive

Germanic

*wīpōną

to wipe, to swing

West Germanic

Old English

wīpian

to wipe

Frankish

*wīpon

Old High German

Middle High German

wīfen

to wind, to swing

Proto-Indo-European

*wiPó-s

swinging, trembling, agitated

adjective

Germanic

*wibraz

arrow

North Germanic

West Germanic

Old English

wifer

arrow, javelin, dart

Indo-Iranian

*wiprás

Indo-Aryan

*wiprás

Sanskrit

विप्र

vipra

excited, inspired, seer, Brahmin, theologian, poet

Sanskrit

विप्रता

viprata

the rank or condition of being a Brahmin

Iranian

*wifráh

Avestan

vifra

(wave-)tossed

epithet of Paurva, a legendary sailor

Italic

*wibrāō

trembling

Latin

vibrō

I shake, I agitate, I launch, I vibrate, I glimmer

Western Romance

Old French

French

virer

to veer, to turn into, to transfer

English

veer

Italian

virare

to veer, to turn, to come about

Spanish

virar

to veer, to tack

Italian

vibrare

to vibrate

Spanish

vibrar

to vibrate, to brandish, to roll an /r/

English

vibrate

French

vibrer

to vibrate

Latin

vībrissae

nose hairs

English

vibrissae

Italian

vibrissae

vibrissae, whiskers

Proto-Indo-European

wéyPyōs

very moving?

intensive adjective

Proto-Indo-European

wéyPō

banner, waving thing

noun

Germanic

*waibjō

banner

North Germanic

Old Norse

veifa

banner, flag

Icelandic

veifa

flag, pennant

Tocharian

Kushean

waipe

banner, flag

Proto-Indo-European

?

Tocharian

Kushean

waipalau

dizziness, vertigo

Proto-Indo-European

*sweyg-

Proto-Indo-European

*sweyg-ti

Balto-Slavic

Lithuanian

svaĩgti

to become dizzy or giddy

Proto-Indo-European

*sweygéy-eti

causative

Germanic

*swaigijaną

North Germanic

Old Norse

sveigja

to bend, to bow

Icelandic

sveigja

to bend

West Germanic

Old English

Frankish

*swaigen

Indo-Iranian

Indo-Aryan

Sanskrit

स्वजते

svájate

to embrace, to enfold

Iranian

Avestan

pairi-šxuaxta

to surround
Visual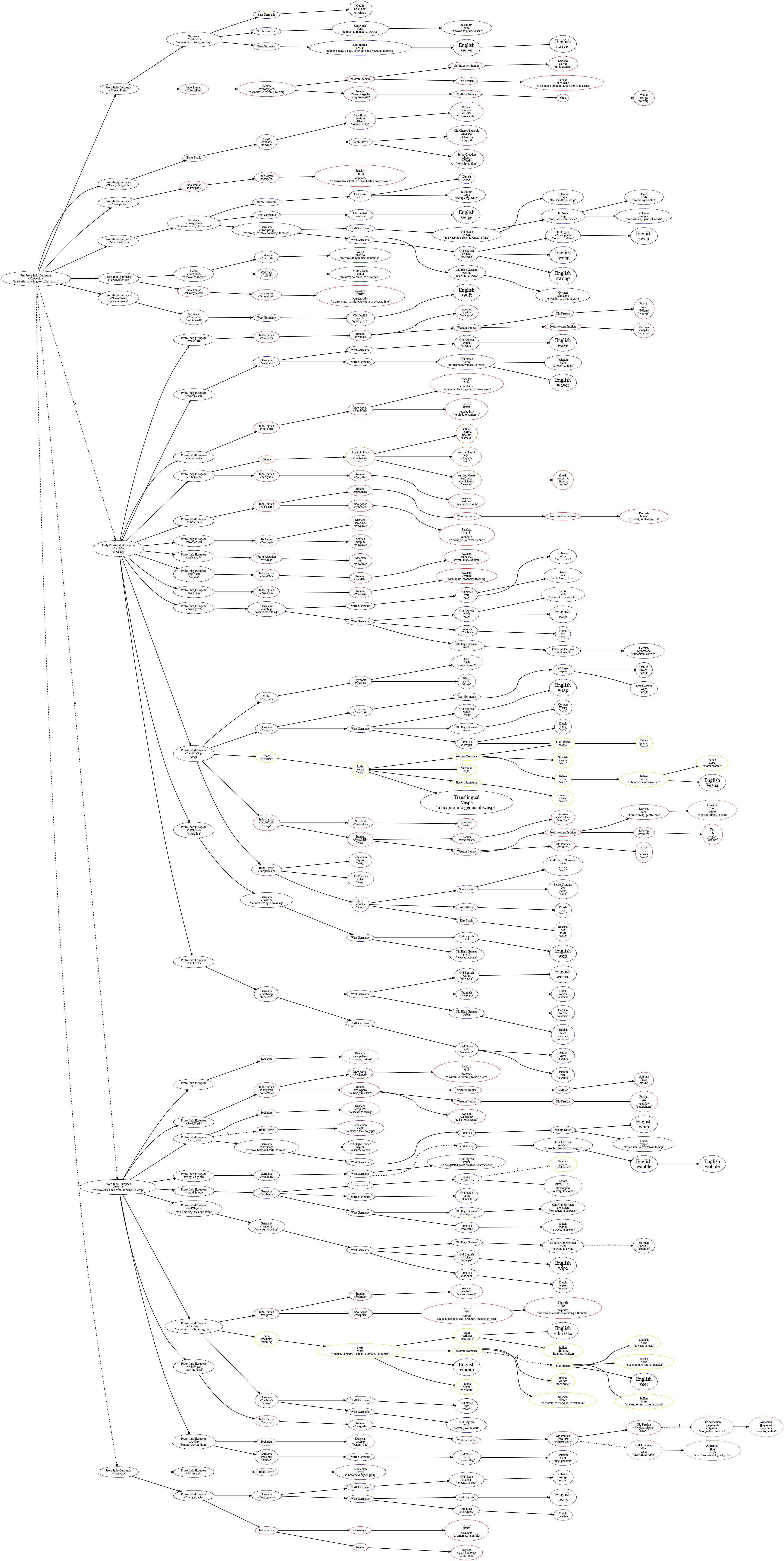 Collected English words
swive, swivel, swipe, sweep, swoop, swap, swift, weave, waver, wave, web, wasp, Vespa, Vespa, weft, whip, wabble, wobble, wipe, veer, vibrate, vibrissae, sway
Footnotes